In Our Family

In our family, pizza isn't just what we do together on a Friday or Saturday night; It is our life. It is truly a passion. That is why we have done countless hours of research and attended dozens of classes to learn how to make our pizza better, healthier, and more delicious than anyone else. You may have noticed some recent changes in our recipe. We are very proud of the recent changes however, we understand that they may not be for everyone. To ask for the old sauce, no garlic, light cheese, or whatever it may be, it is never a problem at Ermannos. It is our guarantee to you that we will proudly prepare Your pizza, the way You want it. After all, Our kitchen is your kitchen.

We want to give you and your family the finest, tastiest and healthiest pizza and we go to great lengths to ensure this. A lot of fast-food pizza places claim "dough made fresh daily". So what? Great tasting dough requires time to develop a "complex" taste. Like beer or even good wine - time is needed so the yeast can ferment and impart "character" to the dough.

We have tediously investigated, researched, and talked to experts until we ourselves have become experts. It truly is an art form and takes time. Frozen dough keeps a nicer, more perfect shape but it loses its rich flavors. Homemade, perfectly aged dough is a bit more temperamental, but has a authentic and complex taste. You may also notice a subtle hint of garlic. We hand brush each pizza with imported, 100% extra virgin olive oil infused with garlic. The olives are vine ripened and then stone crushed in Italy.

The sauce has been carefully selected as well. It is made from vine ripened tomatoes (not from concentrate), and simmered to perfection. We then add seven secret ingredients to give it an Old World robust flavor.

We use a unique blend of three real cheeses. Real cheese darkens when cooked. Fake cheese stays white and is more stretchy. Yes, it is more stretchy but it is unhealthy. Not a fare tradeoff in our opinion.

Some of the big chain pizza distributers claim to have pizza that is "always fresh!!" We are not really sure what that means. Frozen dough, fake cheese, and powdered sauce (that's right, "just add water"), doesn't sound fresh to us. We find it rather insulting to see someone throw those words around so loosely. We know the hard work and dedication it requires to truly be "Always Fresh".

If you are one of our many regular guests we would like to thank you for your time and loyalty. If you haven't tried us yet, it would be our pleasure to serve you. Give us a call today!

Graciously yours,
The Ermanno's Pizzaiolis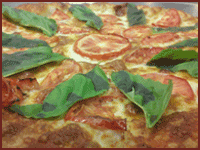 Earn FREE Pizza!
Check out our Rewards Program.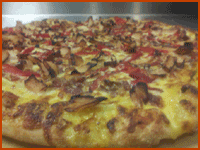 Try any Large Specialty Pizza
For Only 15.99!


Join the Ermanno's family!
Click HERE to view and print an application.